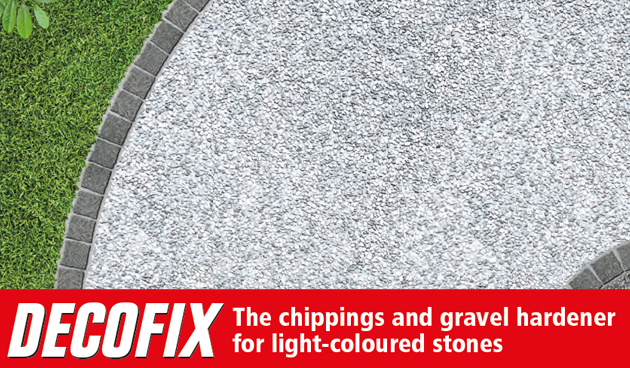 A-JOINT® DECOFIX is a highly water-permeable, frost- and
UVresistant 1-component special adhesive for bonding dust-free and dry decorative gravel and precious chippings. The result is a stable and visually appealing stone carpet. With the help of A-JOINT® DECOFIX, projects around the home can be realised. Whether light wells, garden paths, tree borders or other decorative surfaces. Loose stones are a thing of the past.
A-JOINT® DECOFIX beautifies your garden, makes it always look tidy and makes maintenance work easier.
Properties
For surface depths from 30 mm
UV and water resistant
Particularly suitable for light-coloured stone
For grain sizes from 2-5 mm to 16-32 mm
Inodore
Colourfast

Istruzioni per l'elaborazione
Preparare
The surface must be cleared of weeds, roots and loose parts to a depth of at least 30 mm. The general rule is: layer thickness 3x as high as the largest grain of the stone used. To avoid settling, we recommend a permanently water-permeable and load-bearing substrate corresponding to the subsequent load. Adjacent areas should be masked off or covered to avoid soiling by the fresh binder. The use of a weed control fabric is recommended.
The stone used must be dust-free and completely dry.
Should cleaning and drying be necessary, allow sufficient time before processing. Attention! Moisture in the mixture can significantly affect the strength. It is recommended to store the bottle in a warmer environment before processing. This makes emptying much easier.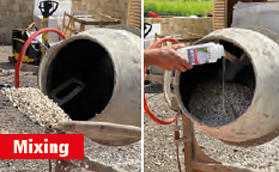 Miscelazione:
Riempire il cippato/ghiaia in un contenitore di miscelazione adatto. Si consiglia di utilizzare un miscelatore a caduta libera o obbligatoria. Avviare il processo di miscelazione, aprire la bottiglia e aggiungere il contenuto della bottiglia. Assicurarsi che la bottiglia sia completamente vuota. L'intero processo di miscelazione deve durare almeno 6 minuti, fino a quando le pietre sono completamente bagnate dal legante.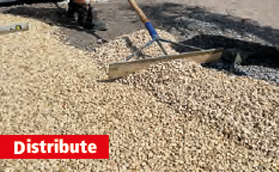 Elaborazione:
Versare l'impasto finito sulla superficie preparata e stenderlo con una pala pulita. Quindi livellare la superficie con un'asta di livellamento. Ora compattate la superficie con una spatola lisciante e livellate allo stesso tempo la superficie. Più la superficie è compattata, più sarà resistente.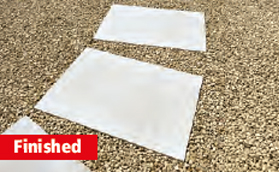 Post-trattamento:
Proteggere l'area appena piantata dalla pioggia per almeno 24 ore. Si consiglia di utilizzare teli da costruzione o teloni come protezione dalla pioggia. Non devono essere posizionati direttamente sulla superficie. A temperature intorno ai 20°C, la superficie può essere calpestata dopo 24 ore e percorsa dopo 6 giorni. Per le superfici molto utilizzate, prevedere un'altezza di costruzione di almeno 50 mm e limitarsi a una grana di massimo 12 mm. Prima dell'uso si consiglia sempre di eseguire una prova di resistenza. I lavori di pulizia (idropulitrice max. 100 bar, distanza minima 40 cm) possono essere eseguiti non prima di 7 giorni. Se necessario, lo strato di pietra superiore può essere ulteriormente sigillato. A tal fine, applicare A-JOINT® DECOFIX in modo sottile (150 - 250 ml/m²) sulla superficie pulita e asciutta con un pennello o un rullo da pittura.
Importante
Resin film: A-JOINT® DECOFIX leaves a thin resin film on the stone surface, which intensifies the colour of the stone used (wet-look effect) and protects it from soiling. The resin film usually disappears over time due to weathering and use of the surface. If in doubt, create a small test area. The synthetic resin film is not a design defect, as neither the quality nor the functionality of the surface is affected.

Application notes: Use A-JOINT® DECOFIX only with a stable, load-bearing and permanently water-permeable substructure or a slope of at least 2%. Plan for expansion joints and think about sufficient distance to plant stems (growth). Please wear adequate protective clothing. Work shoes and tools must be free of dirt and should be cleaned with water after application. Regularly remove dirt, leaves and moss from the surface. Our information is based on years of experience and the current state of the art, but is non-binding and does not constitute a contractual legal relationship.