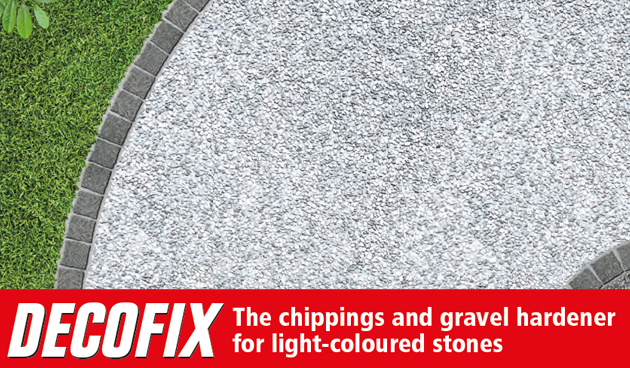 A-JOINT® DECOFIX is a highly water-permeable, frost- and
UVresistant 1-component special adhesive for bonding dust-free and dry decorative gravel and precious chippings. The result is a stable and visually appealing stone carpet. With the help of A-JOINT® DECOFIX, projects around the home can be realised. Whether light wells, garden paths, tree borders or other decorative surfaces. Loose stones are a thing of the past.
A-JOINT® DECOFIX beautifies your garden, makes it always look tidy and makes maintenance work easier.
Properties
For surface depths from 30 mm
UV and water resistant
Particularly suitable for light-coloured stone
For grain sizes from 2-5 mm to 16-32 mm
Odourless
Colourfast

Voorbereiden
The surface must be cleared of weeds, roots and loose parts to a depth of at least 30 mm. The general rule is: layer thickness 3x as high as the largest grain of the stone used. To avoid settling, we recommend a permanently water-permeable and load-bearing substrate corresponding to the subsequent load. Adjacent areas should be masked off or covered to avoid soiling by the fresh binder. The use of a weed control fabric is recommended.
The stone used must be dust-free and completely dry.
Should cleaning and drying be necessary, allow sufficient time before processing. Attention! Moisture in the mixture can significantly affect the strength. It is recommended to store the bottle in a warmer environment before processing. This makes emptying much easier.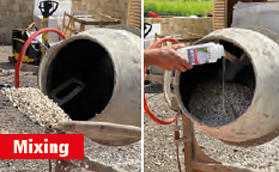 Shuffle:
Vul de snippers/grind in een geschikte mengbak. Wij raden aan een verplichte of vrije val mixer te gebruiken. Start het mengproces, open de fles en voeg de inhoud van de fles toe. Zorg ervoor dat de fles helemaal leeg is. Het hele mengproces moet minstens 6 minuten duren totdat de stenen volledig met het bindmiddel zijn bevochtigd.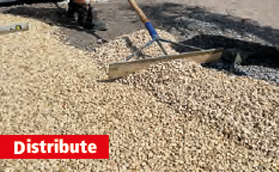 Proces:
Giet het afgewerkte mengsel op het voorbereide oppervlak en verspreid het met een schone schop. Maak het oppervlak vervolgens vlak met een egalisatiestaaf. Verdicht het oppervlak nu met een vlakspaan en egaliseer het tegelijkertijd. Hoe beter het oppervlak is verdicht, hoe duurzamer het zal zijn.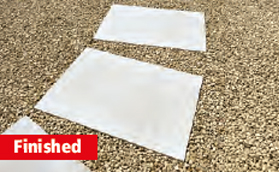 Opvolging:
Bescherm het pas beplante gebied ten minste 24 uur tegen regen. Wij raden aan om bouwplaten of dekzeilen te gebruiken als regenbescherming. Deze mogen niet rechtstreeks op het oppervlak worden geplaatst. Bij temperaturen rond 20°C is het oppervlak na 24 uur begaanbaar en na 6 dagen berijdbaar. Plan voor zwaar belaste oppervlakken een constructiehoogte van minstens 50 mm en beperk u tot een korrelgrootte van max. 12 mm. Een sterktetest wordt altijd aanbevolen vóór gebruik. Reinigingswerkzaamheden (hogedrukreiniger max. 100 bar, min. 40 cm afstand) mogen ten vroegste na 7 dagen worden uitgevoerd. Zo nodig kan de bovenste steenlaag extra worden verzegeld. Breng hiervoor A-JOINT® DECOFIX dun (150 - 250 ml/m²) aan op het schone en droge oppervlak met een kwast of verfroller.
Belangrijk
Resin film: A-JOINT® DECOFIX leaves a thin resin film on the stone surface, which intensifies the colour of the stone used (wet-look effect) and protects it from soiling. The resin film usually disappears over time due to weathering and use of the surface. If in doubt, create a small test area. The synthetic resin film is not a design defect, as neither the quality nor the functionality of the surface is affected.

Application notes: Use A-JOINT® DECOFIX only with a stable, load-bearing and permanently water-permeable substructure or a slope of at least 2%. Plan for expansion joints and think about sufficient distance to plant stems (growth). Please wear adequate protective clothing. Work shoes and tools must be free of dirt and should be cleaned with water after application. Regularly remove dirt, leaves and moss from the surface. Our information is based on years of experience and the current state of the art, but is non-binding and does not constitute a contractual legal relationship.